How It Works
Get ready to give the best gifts, save the most interesting memories in one photo and enhance your walls with CollageBerry.
If you have not created a mosaic collage in the past we believe you will be amazed by the result. In 3 easy steps you create a work of art like no other.
A mosaic is a creation of an image through lots of tiny small images. This is exactly what CollageBerry gives you. Upload a master image and be amazed by seeing it created with hundreds or thousands of other images. You can use your own images or some of the stock photography that we have to offer.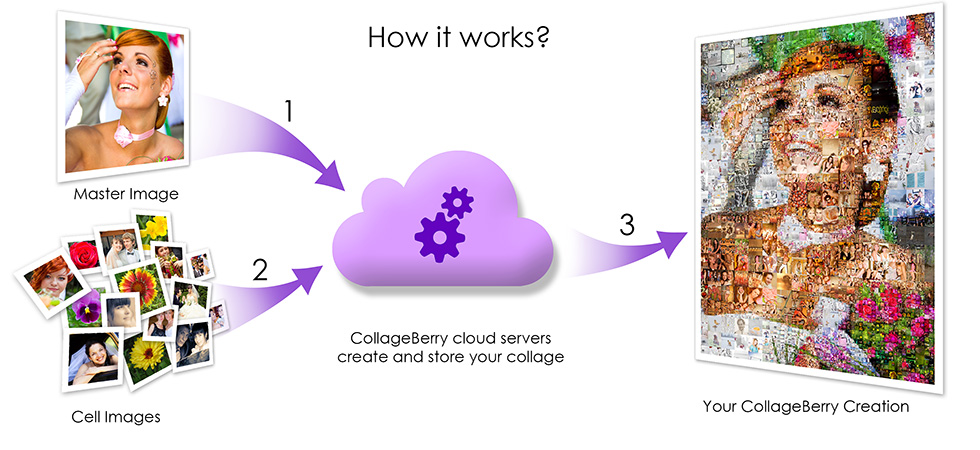 Note: You can create as many collages as you want for free. If you do not like your collage, just make another one at any time and compare all of your works in your settings! Once you create a collage that you want to share with the world and you need to remove the watermark from the download image, you can use your credits. 1 credit unlocks 1 collage without watermark.
Imagine this - a family photo that shows your entire family trip. With our high resolution and large file sizes you can print these images or share and be able to see clearly each individual photo that makes your art shine!
You are able to directly print these from CollageBerry or you can save the file on any disk or drive and take it to anywhere they print photos. Grandma would love a mosaic poster for Christmas of her grandkids or maybe you need an anniversary present for your loved one?
Not convinced? Check out our Gallery and take a look at some creations. Or even better, create as many collages as you want for free until you get it just right. We believe you will be so amazed with our service that we are able to offer this to all of our users.
Happy Collage making!